On August 26, 2008, Michelin China Investment Co., Ltd. delivered a Michelin green energy-saving tire, XZA2+ Energy, to its customer, Beijing Xianglong Alsek Co., Ltd. in Beijing. This is also the start of the sales of Michelin trucks in the Chinese market in 2006. Ten thousand tires since the green tires. Michelin China announced that in order to meet the growing market demand, in 2008 it further enriched the specifications of its energy-saving tires and provided complementary products for more models. So far, Michelin is the only tire manufacturer in China's card and passenger car tire market that can provide green and energy-saving tires.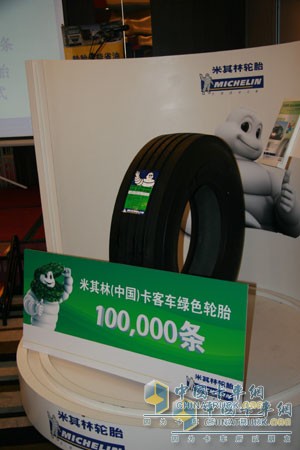 Mr. Ke Situ, vice president of card passenger car tire market and sales of Michelin (China) Investment Co., Ltd., said: "With the global energy supply shortage and environmental issues becoming more and more serious, how can China's card and passenger car transportation industry ensure profitability, Responding to the trend of environmental protection and energy conservation is a challenge to China's current sustainable mobility, and Michelin is the only brand in the passenger and car market in China that can provide energy-saving tires for passenger cars and buses.Michelin has always been committed to helping users improve efficiency and improve safety for them. To create the highest possible value, we are very proud to see that the Michelin XZA2+ Energy series of eco-friendly and energy-saving tires not only brings objective economic benefits to users, but also creates great environmental benefits for the society, thanks to their satisfactory fuel economy. "
Mr. Liang Shoujun, the manager of Michelin's China Marketing Department, later confirmed the economical energy-saving and environmental protection of the green tires mentioned by Mr. Cositu. The XZA 2+Energy green tires and Michelin ordinary tires produced by Michelin were tested by the Ministry of Transport Highway Traffic Test Site. The test results showed that the XZA 2+Energy tires were more common than the normal passenger cars with six tires. The tire 100 kilometers fuel economy at least 2%. By analogy, Michelin's sale of 100,000 green tires in the Chinese market for two years means that it will save 24 million litres of fuel for its users and 65,000 tons of carbon dioxide emissions for China, which is equivalent to 2.6 million trees a year. The amount of carbon dioxide absorbed.
Michelle (China) Investment Co., Ltd. Mr. Ke Situ, Vice President of Card Passenger Car Tire Market and Sales, delivered 100,000 tires, trucks, passenger cars and green tires to his customers.
In the cost structure of the transportation industry, tires account for about 6% of the total cost, while fuel costs account for as much as 40% of the overall cost, ranking first in the overall cost of the fleet. It's worth noting that tires that only accounted for 6% of the freight company's cost consumed one of every three boxes of fuel. Assuming that, for example, a fleet of 100 passenger cars will be equipped with six Michelin green tires per vehicle. The calculation of the life span of 300,000 kilometers of green energy-saving tires will save at least 147,600 liters of fuel compared to the use of ordinary tires. The cost savings are: 915,000 yuan, equivalent to nearly 300 tires free of charge.
When talking about the use experience, General Manager Wang Bo of Beijing Xianglong Alsa Co., Ltd. stated that low noise and low energy consumption are the biggest advantages of Michelin green energy-saving tires XZA2+ Energy. At the same time, the special design of Michelin green tire carcasses is the retreading of the tires. Improving the usage rate and extending the life span is a guarantee. Because of this, it will reduce costs and bring more economic benefits to the company.
The Michelin green energy-saving tire XZA2+ Energy was launched in the Chinese market in 2006 and used in highways, luxury passenger cars, passenger cars and trucks. It sold 100,000 pieces in two years and provided energy-saving and environmentally friendly tires for Chinese trucks and buses. Now, further innovations continue. According to Michelin Marketing Manager Liang Shoujun, the current Michelin company is conducting important research projects. In May this year, the French Michelin R&D Center stated that it is possible to achieve major breakthroughs in reducing rolling resistance over the next five years. The reduction in fuel consumption using Michelin tires is expected to increase from the current 2% to 20%. By then, what Michelin green tires mean for the Chinese transportation market is evident.
Michelin Bus Coach Green Tire Product Introduction

XZA 2+ENERGY all wheelless radial tires, Michelin China launched in the Chinese market in 2006. Suitable for highways, suitable for luxury passenger cars, ordinary passenger cars and trucks. Product Features:
Thanks to Michelin energy-saving technology in the rubber compound formula, the carcass structure design and the tread pattern design application, the rolling resistance of the tire is significantly reduced, thereby reducing the fuel consumption.
The pattern depth is increased, the tread is widened, and the ground contact area is optimized. This effectively reduces irregular wear and tear, makes the mileage of the tire longer, and costs less per kilometer.
The overall durability of the carcass is improved, resulting in higher retreadability.
The new tread design provides excellent grip and handling while reducing tire noise and making driving safer and more comfortable.
XZA 2+ Energy green tire
Michelin has been continuously improving the mobility of humans and goods through the production of tires for various modes of transportation (including airplanes, automobiles, bicycles/motorcycles, construction machinery vehicles, agricultural vehicles, trucks, and U.S. space shuttles). At the same time, Michelin also provides electronic mobile support services through the Michelin travel website (ViaMichelin.com) and publishes travel, restaurant and hotel guides, as well as maps and road maps. Headquartered in Clermont-Ferrand, France, the Michelin Group operates in 170 countries and regions, employs 129,000 people, and has 71 factories in 19 countries.
In 1989, Michelin came to China and brought its advanced technology and high-quality products to China. At the end of 1995, Michelin set up its first joint venture company in China in Shenyang. In 2001, Shanghai Michelin Warrior Tire Co., Ltd. was jointly established with Shanghai Tire & Rubber (Group) Co., Ltd., one of China's largest tire manufacturers. . Currently, Michelin has more than 5,500 employees in China and is committed to the continued development and growth of Michelin in China.
Roll Forming Line,Floor Deck Roll Forming Machine,Decking Roll Forming Line,Decking Roll Forming Machine
Xinxiang Tianfeng Machinery Manufacture Co., Ltd. , https://www.frollforming.de