On May 21, 2009, Guangzhou Automobile Group and Changfeng Group held a grand signing ceremony of the share transfer agreement in Hunan Hotel, Changsha City, Hunan Province. Changfeng Group transferred 29% of the shares held by Changfeng Auto to GAC Group, which will become Changfeng Motor's largest shareholder, Changfeng Motor will be renamed "Guangzhou Automobile Co., Ltd.". GAC Group promised to work together with its partners to strive to invest approximately RMB 10 billion in Hunan within five years to form a production capacity of approximately 500,000 units for cooperation projects, with sales revenue exceeding RMB 40 billion and total profits and taxes of RMB 5 billion.
GAC Group introduced, in accordance with the company's realistic foundation and strategic development needs, and in accordance with the principle of complementing each other's advantages and mutual benefit and win-win, and friendly consultation with Changfeng Group, through a completely independent market behavior, reached a strategic cooperation framework agreement with Changfeng Automobile as a cooperation platform. According to the agreement, Changfeng Group transferred 151,052,703 shares of Changfeng Motor (accounting for 29% of the total share capital of Changfeng Automobile) to GAC Group. After this transfer, GAC Group will become the largest shareholder of the company; Changfeng Group holds Some of the shares of Changfeng Motor will be reduced from the current 265,522,024 shares (accounting for 50.98% of the company's total share capital) to 114,469,321 shares, accounting for 21.98% of the company's total share capital, making it the second largest shareholder of the company. Changfeng Automobile will be renamed GAC Changfeng Motor Co., Ltd. after the board of directors of Changfeng Automobile and the shareholders' meeting agree. As for which products will be introduced into the Changfeng Automobile Group after the Guangzhou Automobile Group entered the market, relevant sources said that Changfeng does not have a car catalog, but Guangzhou Automobile has some. Changfeng naturally has the qualification of a car. It is believed that Changfeng's sedan will be available soon.
On May 31st, the name of GAC Fiat appeared in the environmental impact report of the construction project to be approved by the State Environmental Protection Agency on May 31, and confirmed that the first production model of the joint venture company was the Lead Ya Linea that had been sold domestically. The production capacity is 140,000 vehicles. This also confirmed from the side that the cooperation between GAC and Fiat has settled. In the scale of 500,000 units of GAC and Changfeng, the GAC Fiat project is already under review. It is reported that GAC Group plans to set up a passenger car joint venture with Fiat Auto with a total investment of 4.269939 billion yuan. The joint venture will be approved this year as soon as possible. This has also become a platform for Fiat's resurrection in Dongshan, China.
According to statistics, GAC Group currently owns dozens of well-known companies such as Guangzhou Automobile Honda, Guangzhou Automobile Toyota Motor, Guangzhou Automobile Passenger Vehicle and Guangzhou Automobile Hino. The main business covers passenger cars, commercial vehicles, parts and components, service trade, investment and research and development, and other six sectors, which occupy an important position in the Chinese automotive industry. In 2008, the production and sales revenue of GAC Group exceeded RMB 100 billion for two consecutive years, and the profits and taxes exceeded RMB 10 billion each. At present, the GAC Group's own-brand passenger car project is progressing as planned, and it is expected that the first self-branded mid- to high-class car will go offline in August 2010.
The signing of the cooperation agreement between GAC Group and Changfeng Group marked a substantial step for GAC Group to restructure the Changfeng Automobile Project and marked the implementation of domestic passenger car companies by GAC Group following the establishment of a passenger vehicle manufacturing enterprise in cooperation with Honda and Toyota. The restructuring strategy officially kicked off. At the same time, the strategic cooperation between GAC Group and Changfeng Group also opened the precedent for the restructuring of China's auto companies across regions and has played a leading role in the domestic auto industry since the promulgation and implementation of the "Auto Industry Adjustment and Revitalization Plan".
Liu Tienan, deputy director of the National Development and Reform Commission, at the Guangqi Changfeng Asset Restructuring Signing Ceremony stated that the reorganization of Changfeng Group and Guangzhou Automobile Group was the first realization since the revitalization plan was promulgated, which played a role in the development of the industry and made us learn from the development road. From the reorganization of the two, we can see that Guangdong and Hunan can do it, and other places in the country can also do it. However, it is interesting that Mitsubishi Motors, which had been infighting with the Changfeng Group for a joint venture, was a bit quiet in the incident and has been in a deep "latent" state—a bitter noise in the market and the media.
Since the 1990s and 2004, Mitsubishi Motors has been pursuing a purely export-oriented strategy of technology transfer. For example, it has successively established joint ventures with Changfeng, Southeast, and Hafei. The basic features of this phase are the engine technology plus some products. The main form of the brand is Changfeng Cheetah and Southeast lions on the specific products. This point-by-point strategy has laid a bad seed for Mitsubishi's strategic mistakes in the future. It not only falls behind its fellow countryman and its counterpart Honda. Mitsubishi Motors specializes in the engine field when Honda has already established a joint venture in China. Production of vehicles; At the same time, Mitsubishi technology has gradually lost the appeal of the market along with the huge changes in the Chinese market, coupled with product quality scandals of Mitsubishi vehicles in Japan and company funding problems caused by the departure of Dyke. , Which led to its business crisis and no time to withdraw. In recent years, Mitsubishi has been unable to catch up with its competitors in the competition of complete vehicle projects.
First of all, on the brand line, although Mitsubishi also has a sedan brand, its sedan is only a second-tier brand in Japan, and its brand position is under Toyota, Honda and Nissan. On a global scale, the Mitsubishi sedan project is difficult for its market revival plan. This shows that he lacks confidence in his car brand and its development in an increasingly fierce market in China, which has caused Mitsubishi sedan to be found in China for a long time. Moreover, domestic partners are also not willing to join hands with them. Although in the past few years, Changfeng's willingness to enter the field of cars is strong and it expresses the urgent need to expand cooperation with Mitsubishi to jointly produce cars, the struggle for dominance and interests between the two has always put its car brand's output plans on hold. status.
In addition, in the field of SUV, Mitsubishi adopts a single technology output model, and with the continuous evolution of the consumer market, its domestic cooperative brands have gradually become weaker and marginal in the market, such as Changfeng Automobile's market since 05 years. Annual sales rarely exceed 30,000 vehicles. Due to brand and market issues, the sales volume in 2007 still did not exceed 30,000; another public figure shows that from 2005 to 2008, Changfeng's main revenue growth rates were 13.43%, -1.98%, 8.67%, and 3.23%, respectively. Everything shows that a single technology and product line not only confuses Changfeng's development, but also directly damages Mitsubishi's brand strategy. At the same time, domestic SUV enthusiasts who like strong motivation have also rushed to import domestic Mitsubishi cars and other domestic brands. The embrace of the brand, such as the gradual resilience of the imported Mitsubishi Pajero market, caused the Mitsubishi-based brands to kill each other within a certain range.
Of course, the reasons for this outcome are also related to the development history of China's auto market. As we all know, many Chinese auto brands are basically outdated products and brands in developed markets abroad, and they will have a tendency to decline in foreign countries. The introduction of technology into a relatively backward market in China has allowed many foreign brands to spend a relatively long period of happy time in China. Mitsubishi Motors is also the same, and the difference between it and Honda and Toyota is that he is too intoxicated or unable to bid farewell to this. This kind of self-preeminence, which has been somewhat forgotten, has led to the backwardness of its Chinese strategy. Furthermore, in the event of GAC's successful acquisition of Changfeng, the status of Mitsubishi Motors changed from "positive room" to "small area". In addition to Mitsubishi and Changfeng, there are also factors from the GAC and the government.
It can be said that the success of GAC is a success of the Chinese era. After decades of development, China's auto industry has its own ideas and opinions. We don't see our national brand in China has gone from the shameless imitation of the past to the open "shanzhai" type of plagiarism. The government also attaches great importance to nurturing and guiding. The development of China's automobile industry and the newly promulgated "Auto Industry Adjustment and Revitalization Plan" is a major baton of the market. Against this background, the Guangzhou Automobile Group, which has long been bent on the "Four Big Four and Four Small" pattern, has not been reconciled to its slightly weaker status quo and has generated a strong impulse to become stronger and bigger. The advantages of GAC in the field of cars and the advantages of Changfeng in terms of strategic market position and production capacity have enabled the two to "love at first sight" and quickly entered the "bridal room" in close cooperation. Mitsubishi's concern for Changfeng's development of its own brand is insufficient or even deliberately suppressed. This makes Changfeng very uncomfortable. There are many common language between the development of independent brands, GAC and Changfeng, which is also the driving force for accelerating the wide-long marriage. one.
View related topics: China's auto industry recommence mergers and acquisitions wave
Yangzhou Chengde is a Jointer venture company with American top Aerospace and Energy products conglomerate PCC Group, fully integrated with PCC on technology and management. We can produce all the boiler pipes according to the ASME SA335, ASTM A335 and EN10216 standards, such as the P11 steel pipe, P12 steel pipe, P22 steel pipe, P91 steel pipe, P92 steel pipe, P5 steel pipe, P9 steel pipe, P36 steel pipe, 10CrMo5-5 steel pipe, 10CrMo9-10 steel pipe, 13CrMo4-5 steel pipe, 15NiCuMoNb5-6-4 steel pipe, X10CrMoVNb9-1 steel pipe and X10CrWMoVNb9-2 steel pipe
In the year of 2015, we win the first prize of National Science and Technology Progress Award by the program of [The innovative research & development, and application of steel pipes used in 600 ℃ Ultra-super critical coal power generation unit".
Yangzhou Chengde is continuously strengthening the technical innovation, together with Bao steel and other companies. Yangzhou Chengde has spent 10 years on the R&D of the steel pipe used in 600 ℃ Ultra-super critical coal power generation unit and achieved the tremendous success on realizing the manufacture of such high-end seamless steel pipe from zero to the advance level, which has filled up the vacancy in China and broken up the foreign technological monopoly. The steel pipe manufacturing technology of China has leaped to the international advanced level and further confirmed the leading position of Chinese companies in researching and making high-end special steel pipes.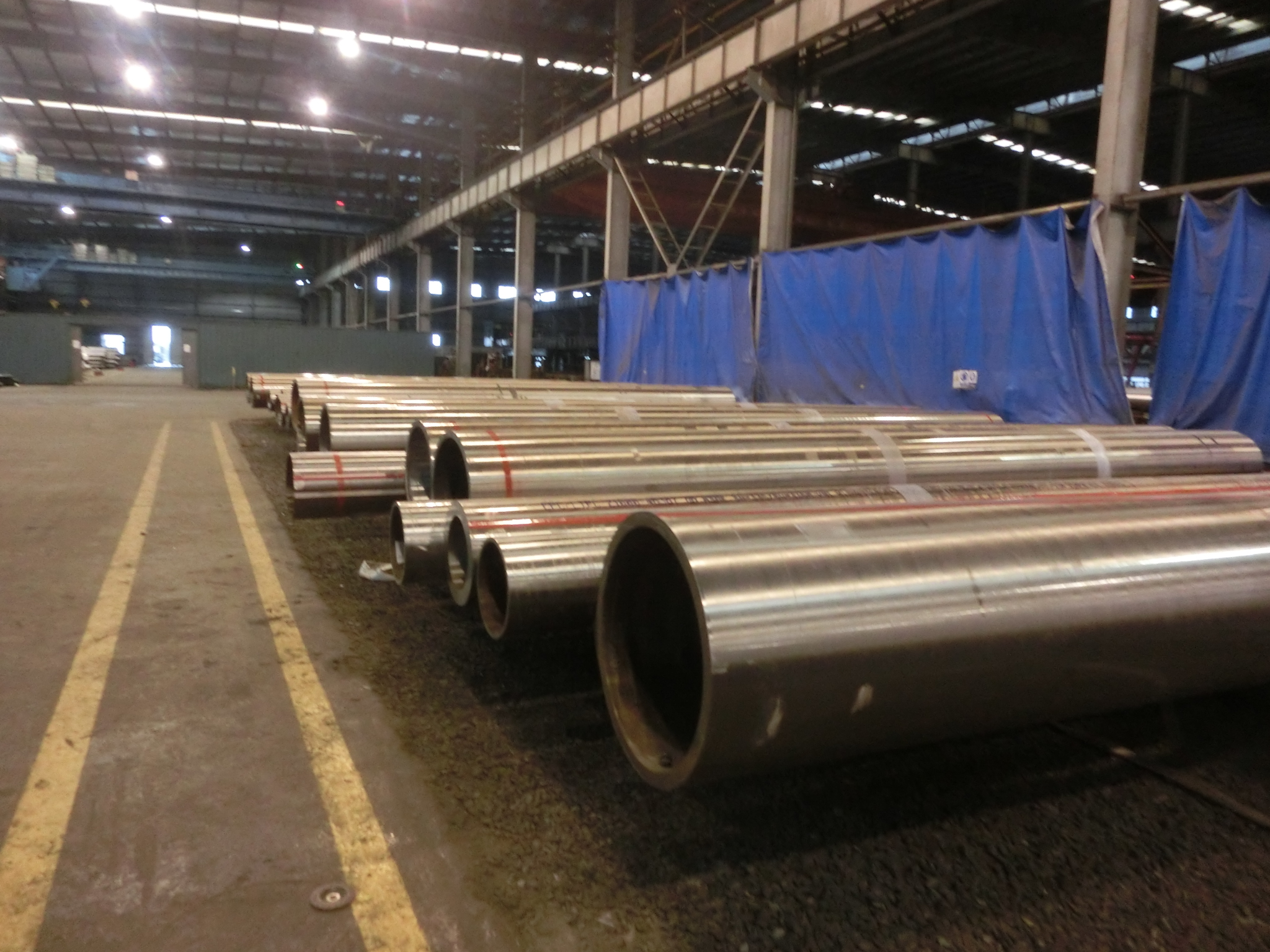 Boiler Pipe,Thermal Power Pipe,P9 Pipe,P36 Pipe
YANGZHOU CHENGDE STEEL PIPE CO.,LTD , https://www.chengdepipe.com