Computerized:
Computerized
Controlled by:
Simense PLC
Product:
Switches / Pipe Fittings
Suitable Machine:
PVC / PE / PP / ABS /PPR
Transport Package:
Export Standard Packages
Specification:
CE Certificate/ ISO9000: 9001
Automatic Plastic Basin Injection Molding Machine / Making Machine
Detailed Product Description:
Injection moulding machine / Adopting Europe technology, hydraulic unit adopts proportional pressure and flow control, the pressure and the speed can be adjusted, stable movement curve and gentle shock, the computer is imported from Industry family. The LCD displaying screen with high clarity has Chinese and English language to use. Close-loop PID temperature control with the advantage of high precision. The operating table of the injection moulding machine have two safety, one is machine safety, another is electrical safety, that ensures the operators's safety.
Mould /Our mould producing center produces exact mould, adopts the high grade material to make. The perform mould uses the hot runner technology, inside uses the imported steel, the surface's brightness is very high and the service time is very long.
Features:
1) LCD computer control with big display screen
2) Hydraulic double proportional valve
3) Hard chrome plated high tensile strength steel tie bars
4) Generous space for fitting large moulds
5) Large opening stroke
6) Two position transducers to control Clamping and Injection
7) Four stages of injecting, independent velocity and pressure control
8) Hydraulic mould height adjustment device
9) Screw cold-start prevention device
10) Melt decompression control
11) Screw back pressure control
12) Multiple hydraulic ejection
13) Differential high speed clamping
14) Centralized lubrication system
15) Low pressure mould protection device
16) Mechanical safety interlock
17) Double electrical safety interlock
18) Oil return filter
19) Oil tank with inner stainless steel container
Technical parameter 
| | | | |
| --- | --- | --- | --- |
| Specification | Clamping force | Max. Plasticising weight(PS)g | Space between tie bars (mm×mm) |
| BST-700 | 70 | 101 | 320×320 |
| BST-950A | 95 | 183 | 360×360 |
| BST-1300A | 130 | 260 | 420×420 |
| BST-1600A | 160 | 486 | 480×480 |
| BST-2000A | 200 | 643 | 505×505 |
| BST-2400A | 240 | 845 | 555×555 |
| BST-3000A | 300 | 1050 | 600×600 |
| BST-3800A | 380 | 1286 | 680×680 |
| BST-4800A | 480 | 1600 | 760×760 |
| BST-5500A | 550 | 2466 | 810×810 |
| BST-6500A | 650 | 2895 | 850×850 |
| BST-7500A | 750 | 3543 | 950×950 |
| BST-10000A | 1000 | 6280 | 1110×1110 |
Photos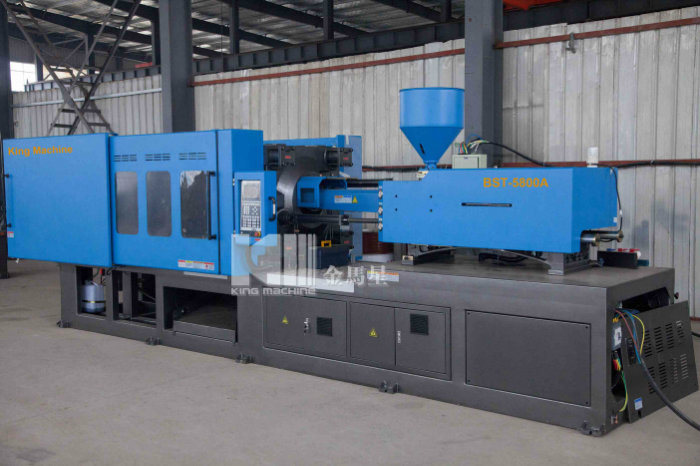 Heat Exchanger,Pressure Vessel,Pressure Tank Co., Ltd. , http://www.nsheatexchanger.com